Foundations of the Christian Faith
January 11th - December 31st, 2026
If you're a new believer or want a refresher on the basics of Christianity this is the place for you. These classes include all you need to get on the right track in your relationship with God.
Join us for this ongoing 7-week class. There are 2 classes available:
Sundays at 8:00 am Room 406
Mondays at 6:30 pm Room 406
Sign-up today!
412Church Student Ministries Permission/Medical Release for 2017
January 1st - January 1st, 2018
High School/Jr. High Liability Release form for all off campus events in the year of 2017.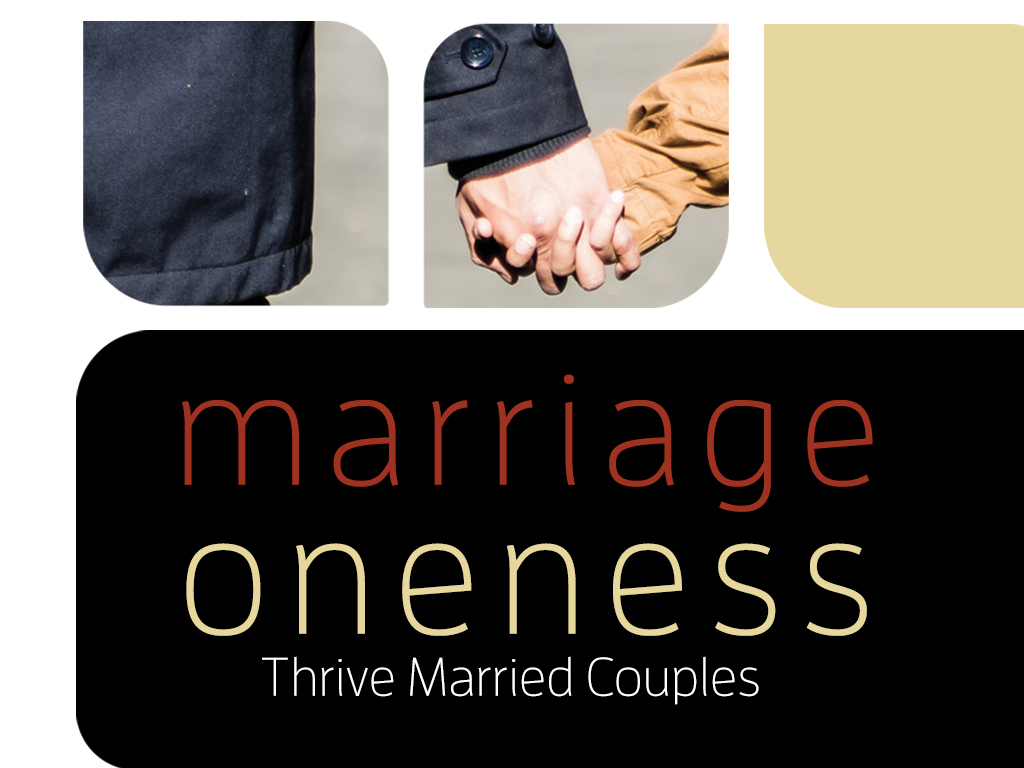 Marriage Oneness
September 11th - February 19th, 2018
$25
THRIVE Marriage Ministry New Series "Marriage Oneness" begins Sept. 11, 2017. This New 8 session series is highly engaging, and video based, that equips couples to grow in true intimacy, connection, and purpose. The cost is $25 per couple (includes study material) We gather for a time of Study / Small Group breakouts and Fellowship.
Childcare provided. Please meet in the Sanctuary at 7pm.
Thanksgiving Basket Volunteers
November 21st, 2017
Its the time of year where we as a church family work together to provide Thanksgiving Baskets for 412 Church families in need.
Sign up here to...
1 | Donate food items - Please pray about what you would like to contribute. We are also taking gift cards from our local grocery stores. Please drop off items at the information table or church office no later than November 19th.
2 | Assemble Baskets - We are meeting at 412 Church at 9 AM on Tuesday, November 21st to pack and organize boxes for pickup.
If you have any questions please email peter@412church.org or call the Church Office 951-654-1401.
Turkey Trot Youth Fundraiser 2017
November 23rd, 2017
$30
Come run, walk or waddle! We are having a 5K run or walk Thanksgiving morning. Let's burn a few calories before the big meal. The event starts at 7:30am. Each participant receives a race t-shirt, a medal, and the winner receives a trophy! Water is available throughout the course, and refreshments are provided afterwards. Proceeds from the race go to our Youth ministries as they prepare for Hume Lake summer camp.
You can help support our youth as a runner, or as a non runner. If you are not planning on participating as a runner simply select "Donation only." (If you are supporting a particular student, please enter their name during registration.)
412Women's Ministry Brunch
December 2nd, 2017
$25
412Women's Ministry would like to invite you to our "1st Annual Christmas Brunch." Rhonda Landis of Calvary Chapel Tustin will encourage us on how to "Keep Christ in Christmas."
Saturday, December 2nd 10:00 A.M. to 12:00 P.M. We will have a time of Worship, a Special Message and Brunch.
At 412Church 1450 W. 7th St. San Jacinto, Ca. 92582
Please Note: No childcare available for this event. Non refundable/non transferable
Christmas at Calicinto Ranch
December 9th, 2017
Join your 412 Church family for Christmas at Calicinto Ranch. We will be celebrating Jesus by caring for "the least of these". Our time will start by wrapping presents for needy children in the Hemet/San Jacinto Valley. We will also enjoy hay rides, campfires, and caroling. Take time to be involved in this blessing to our Church and to this valley.
Meet at 412 Church at 1:30 PM on Dec 9th
412Men's Bible Study - Faith | Hope | Love
January 9th - May 8th, 2018
$15
The 412 Men's ministry is excited for the start of the 2017-2018 Men's Bible study as we will be looking at Faith | Hope | Love
We will be meeting on Tuesday nights at 7:00 pm, this is a great time to grow closer to the Lord Jesus Christ and to start new relationships with the men of 412 Church.
If you have any questions, please contact Pastor Roy at Roy@412church.org
We look forward to this year and what God would have for each of us!!!
**Childcare will be available.
Heart to Heart Mentoring - 2018
February 1st, 2018
Applications are due December 3rd 2017.
This ministry is designed for in-depth fellowship and accountability in small groups of women who meet on a monthly basis. It is a one year commitment to your group and group leader. You will be asked to read an assigned book and be prepared to discuss your reading when meeting monthly. Groups are assigned with 4-5 ladies who are willing to participate and remain together as a group for one full year beginning in January 2018.
This is a one (1) year commitment to your group and your mentor. Please be certain you can commit. If you have any questions please email your questions to Heart2Heart@412church.org.
Space is limited so the applications are processed on a first come first serve basis.
We look forward to serving you through the Heart to Heart Ministry.
Hume Lake Summer Camp: High School
July 1st - July 7th, 2018
$560
Ponderosa also known as "Pondy!" is our flagship camp at Hume Lake for high school students (9th-12th grade). One of the many things we love about Hume Lake is the opportunity to get away from the busyness and distractions that young people face on a daily basis and have an incredible camp experience. When you come to Pondy, you will hear the gospel preached, be challenged through scripture, engage in sweet worship through music and get some time alone and with your church to process what God did in your life up here at camp. Hume Lake takes pride in its high energy recreation allowing kids to be kids. That includes things like playing in the mud, running the gauntlet, doing the bike jump, and dominating in Kajabe Can Can. If you allow it, a week at Ponderosa can and will change your life forever. We look forward to seeing you this summer!
Hume SD Summer Camp: Jr. High
July 8th - July 13th, 2018
$500
Hume SD located on the campus of Point Loma University is a seamless blend of Hume Lake and San Diego. Urban missions and beachfront activities take full advantage of the location while powerful corporate worship, compelling teaching and full throttle recreation provide a true camp experience for Jr. High (grades 6-8).
2018 Footsteps of Paul with Pastor Tom Hughes, Pastor Barry Stagner, Pastor Bob Probert
October 22nd - November 1st, 2018
Join Pastor Tom Hughes, Pastor Barry Stagner, and Pastor Bob Probert for a tour of the Apostle Paul's footsteps through Greece and Rome among many other locations. This tour takes place October 22-November 1 2018.
To sign up for this trip of a lifetime please visit: http://inspiredtravel.com/412fs18/
The figure of the Apostle Paul stands uniquely in history at the crossroads of redemption. Exquisitely trained in the highest forms religious discipline and thought, equipped with a brilliant mind and born with flame of fervor that consumed everything in it's path, he was a man of impact. A man of consequence. While it was set in his heart to stamp out the early church and to rid the world of it's in influence, he could hardly have anticipated the life altering encounter with Jesus on the road to Damascus. The result of that encounter set Paul on a journey that would lead the generations following him to marvel. From Christianity's most fierce opponent to it's dedicated 'dullos', he gave his life for the Gospel. We invite you to join us for a journey though the lands so richly impacted by his ministry and so wonderfully featured in the pages of scripture. Enrich your life. Make the journey. Be forever changed.